Call us today for professional power washing!
York Pressure Cleaning and Power Washing located in Newport News, VA
We Honor Our Customers With Excellent Service And Special
Attention To Details
Williamsburg, Hampton, Yorktown, Newport News, Virginia

We Give All Our Customers Excellent Service With Special Attention To Detail
York Pressure Cleaning offers a wide variety of pressure washing and power washing services for residential and commercial customers in Newport News, VA. We are especially proud of our proven roof cleaning expertise as our current customers will agree.
Power washing is a great way to make the exterior of your home look new again. Pressure washing uses a high power water stream to effectively remove dirt and debri from your home. We recommend that homeowners clean the exterior of their homes each year.

Do you have ugly roof stains? These black streaks on your roof that you see are caused by an AIRBORNE FUNGUS and are primarily cosmetic on one side of your roof. Usually you will not have any fungus on the roof surface that faces the hot afternoon sun. There are exceptions and an example would be if part of your roof is under the shadow of a tree.
Roofs should only be cleaned by a Professional Pressure Cleaning company to avoid damage to the roof, shingles and yourself.
Our Service Include
Power Washing Vinyl, Wood and Aluminum Siding

Roof Cleaning

Gutter Cleaning

Concrete Cleaning

Brick and Block Power Washing

Deck Cleaning and Wood Restoration

Separate Window Cleaning
GUTTER & CONCRETE CLEANING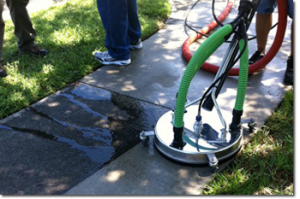 Our processes will completely clean concrete, stucco and other solid masonry structures. Gutters are cleared and cleaned efficiently to eliminate debris and growth buildup that causes clogging and water drainage problems.
We also offer pressure cleaning services!
York Pressure Cleaning will clean roofs, siding, decks, fences, driveways, sidewalks, gutters, docks and much more. We clean wood, vinyl, aluminum, brick and concrete.
We at York Pressure Cleaning are proud of our attention to detail and that detail keeps customers coming back year after year. We strive to give every customer the quality of work we ourselves would expect from our homes and businesses at an affordable price. We provide excellent customer service and stand by our work. York Pressure Cleaning is licensed and insured.
NO JOB is too BIG or SMALL
Please ask about our MILITARY and SENIOR DISCOUNTS.
York Pressure Cleaning offers residential and commercial power/pressure washing services in Williamsburg VA, Yorktown, James City County, Toano, Newport News, and Hampton, Virginia.
Call for a free estimate or questions concerning pressure cleaning or pressure washer services. CALL TODAY - ASK FOR RICK.
WE ARE THE CLEANING SPECIALISTS ON THE PENINSULA!
CALL 757-890-0662 Today
We Honor Our Customers With Excellent Service And Special Attention To Details

Remember….
Don't Trust Your "Castle" to an Amateur!
Our professionalism stands for itself with hundreds of great customers that have been using our company to clean the outside of their homes since 1992. We take great pride in doing not only what you need done but, also fixing those little things you don't see that are wrong before they get worse. Of course, we make sure you want it fixed first. We have also been helping Senior Citizens and Military Families whose spouses are out at sea or stationed in a foreign country for quite some time now – it's our way of showing respect for those who have taken care of us in some way already.
Give us a call for our Military and Senior Citizen Discounts.
It's all about Dirty versus Clean.
As our name states, York Pressure Cleaning is all about removing green tree residue from the outside of houses, the black streaks on roofs, bringing wood decks back to original color and brightness, cleaning dirty sidewalks and driveways, cleaning gutters and so much more.
Residential
Over time, we don't always notice the stains and dirt that accumulate on our homes and roofs. Sometimes, we just notice the neighbors' house and what would make it cleaner. But our own home suffers the same way. Our driveways become dull and dark, especially when we've just come through a rougher winter. Tree pollen can stain the roofs and the walls of our homes black or green. Even the yellow powder that comes from pine trees never really goes away and can build up year after year until everything has a really dull color to it. Your home is your Castle; you work in your yard or garden to make it really nice. Doesn't your home deserve sparkling sidewalks and driveways? Power washing these places with the right equipment and cleaning products help maintain your home and property in the best and most attractive way.
See The Difference
Driveways and Sidewalk
Over time traffic and weather can take their toll on the beautiful image of our property. Clean sidewalks and driveways help maintain that beauty.
Patios, Decks and Docks
It can be rather depressing to invite guests over before your relaxation and enjoyment places are clean. Don't wait until it's time, have yours professionally power washed by a reliable and affordable company. Spring is right around the corner with Summer coming in behind it. The time for cookouts, boating excursions or fishing trips and even sunbathing events is almost here. Enjoy yours in a pressure washed clean environment.
Our Services
Places that Can Be Power Cleaned
Roofs Decks Fencing Siding Driveways Sidewalks Gutters
Boats & Docks Small Buildings Schools Churches
Cement Stone Brick Vinyl Metal Wood
Stain & Seal Decks Stain & Seal Fencing Small Repairs Around the Outside
Residential & Small Commercial
Commercial
York Pressure Cleaning also does small cleaning, small commercial power washing jobs such as schools, churches and small buildings throughout Newport News, VA.
Call Us Today With Your Questions
Or
To Set Up a Quote Appointment
757-890-0662

We will take care of you and your home as if it were our home.
---
Products & Services
Roof Cleaning Specialist. Pressure Washing. Pressure Cleaning. Roofs, Shingles, Decks, Fences, Vinyl Siding, Aluminum, Brick/Stone, HardiPlank, Concrete Driveways, Sidewalks, and Pressure Wash and Clean Gutters. Clean Cement, Stone, Brick, Vinyl, Metal and Wood. Stain/Seal Decks and Fences. Residential and Commercial, Power Washing, Houses, Small Buildings, Driveways, Walkways, Patios, Garages, Sheds, Gutters, Stain & Seal Decks, Small Outside Repairs.